Software
What Is dataMARS?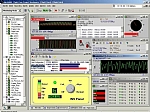 dataMARS is a PC-based software system that passively monitors, displays and records avionics data, and then replays recorded data back to the screen and generates data reports. It supports numerous avionics data formats, including MIL-STD-1553, ARINC-429, PCM, Ethernet, video, voice, analog and digital signals, synchro, custom data and others. dataMARS can either present and report monitored and replayed data in its raw form, or automatically decode the data into engineering-units, using a locally maintained or imported Interface Control Document (ICD) database
It supports realtime calculations based on collected engineering-units data to produce on-line results. Its graphical engineering-unit displays and Virtual Panels enable clear and concise presentation of data. The dataMARS product can handle large volumes of engineering units and raw data, from multiple data buses and signal lines, at high rates.
The exceptional usefulness of this product is evident from its many advanced features and capabilities. For a detailed description of the software's features, click here.
For its capabilities, click here.

"After working with dataMARS we realized that all others are toys rather than tools."
Senior Engineer, Avionics Engineering Dept.
What Is dataSIMS?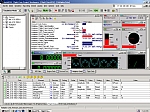 dataSIMS is a PC-based software system that generates realtime avionics data while, at the same time, monitors, displays and records data like the dataMARS. It can also replay the recorded data back to the screen and generate data reports.
Generating realtime avionics data, dataSIMS can be used for rapid emulation of designed units on a live bus, or for controlling other units through their communication buses and signal lines. Virtual panels are used to provide realistic controls and emulated front panels. dataSIMS can also provide a complete communication environment for a developed unit.
Dynamic data is generated in either raw format or in engineering units, according to the ICD. The data may be generated from various simulation functions or be calculated to feedback on monitored data, as required.
Users of dataSIMS enjoy easy and efficient simulation of advanced scenarios, without any programming required.
For more information about the software's simulation capabilities, click here.

"From what I have seen, I believe dataSIMS has stayed at least a generation in front of its competition."
Senior Engineer, Parker, US
What Are Virtual Panels?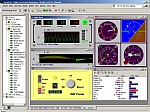 Virtual Panels are a major add-on package option that simplifies access to monitored and simulated data by constructing realistic looking front panels from an extensive library of gadgets. You can use these panels to control a real piece of equipment, as well as simulate or create virtual equipment that can communicate on a live bus. Virtual Panels can also be useful in emulating and testing a proposed front panel design, in order to simplify the user interface for data control and monitoring.