Features
The dataMARS and dataSIMS software products offer the following advanced and useful features:
Support for Different Data Sources and Communication Types
Multiple data sources are supported concurrently to provide system-wide viewing and control over the entire aircraft communications:
You can specify a configuration that best matches your needs when ordering the dataMARS or dataSIMS. This configuration defines the types of supported communications, as well as the number of channels of each type.
Project Workspaces
All settings and database information maintained while using the dataMARS and dataSIMS are saved in a project workspace. When you reload a previously defined project workspace, the entire work environment is restored, including the database, displays, recording settings and numerous other user-defined settings. It is also possible to store portions of the workspace in separate files, enabling them to be shared with others.
No Programming Knowledge Required
The dataMARS and dataSIMS products are ready for use without any programming knowledge required. All of the work is carried out using user-friendly interface functions, saving time that would otherwise be needed to create the provided data-analysis functionality from scratch.
However, if required, the software's functionality can be extended easily. Using easy-to-use software development kits (SDKs) you can quickly add new types of displays and processing functions, as well as monitor and simulate new types of communication data.
Generic/Modular Systems
Most of the dataMARS and dataSIMS functions, such as display, recording, simulation, reporting and virtual panels, are generic and consistent, meaning that they are used and operated in a uniform manner regardless of the data source or communication type.
However, where the differences between types of communications requires special presentation, control and database settings, dataMARS and dataSIMS can provide them in a clear and intuitive manner.
MIL-STD-1553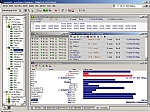 Monitors all or selected bus traffic, and detects communication errors.
Decodes engineering-units data from monitored MIL-STD-1553 messages.
Emulates multiple RTs and/or the BC, with an option to inject communication errors.
Controls simulated MIL-STD-1553 in either raw form or engineering units.
Uses various bus interface cards to access multiple MIL-STD-1553 buses on desktop and notebook computers
ARINC-429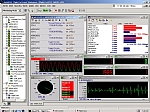 Passively Monitors multiple high- and low-speed ARINC-429 channels, and detects communication errors.
Decodes engineering-unit data from monitored ARINC-429 labels.
Uses a comprehensive built-in database of standard ARINC-429 labels, as well as provides support for user-defined label formats.
Transmits ARINC-429 data in either raw form or in engineering units.
Uses various bus interface cards to access multiple ARINC-429 channels on desktop and notebook computers
PCM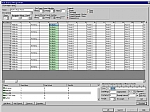 Monitors PCM transmissions and decodes their engineering-unit data.
Decoding supports SFID and FCC major frame synchronization, super-commutated and sub-commutated data.
Uses various bus interface cards to feed PCM data and clock information to the PC.
Ethernet
Monitors TCP, UDP and IP transmissions either passively or as an active node.
Identifies packets and frames by source/destination address and port.
Decodes engineering-units data from monitored transmissions at any protocol layer
Tracks sockets and decodes stream data.
Easily customized to support custom network protocols (based on IP, UDP or TCP).
Custom
Custom data communications channels may be integrated into the system in order to utilize its monitoring, display, storage, post-analysis and database capabilities.
A software driver is used for monitoring custom hardware, RS232/422 protocols, GPS data, analog I/O and more. Custom data may be combined with standard protocols such as MIL-STD-1553 or ARINC-429 for a complete solution to data analysis requirements.
Video
Monitors multiple video sources concurrently.
Supports various formats: NTSC, PAL, RS-170, RS-170A.
Supports composite and S-Video signals.
Supports D1, Half-D1 and SIF sampling resolutions.
Stores and plays back compressed video in MPEG-II format.
Supports MPEG-I compressed audio (stereo or mono).
Supports multiple sources per video channel with dynamic switching
Plays back video in sync with other avionics data.
Enables frame-by-frame analysis.
Supports zoom/pan display.