Introduction
The dataMARS104 product family is an exceptional solution for flight-data recording and analysis, completely integrating an airborne recording unit with powerful ground analysis software, as follows: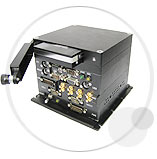 | | |
| --- | --- |
| | The airborne flight-data recorder unit records flight data from multiple diverse data buses and signals. While recording, the unit also displays monitored engineering-unit data, enabling quick and informed decision-making during and between flights. |
| | Once on the ground, the unit's pocket-sized, solid-state media cartridge can be easily removed and taken to the lab, where the powerful Windows-based dataMARS post-analysis software immediately accesses and analyzes the data, with no downloading required. |
| | |
| --- | --- |
| | Finally, the dataMARS post-analysis software provides advanced data presentation, manipulation, interrogation, reporting and exporting capabilities. |
| | | |
| --- | --- | --- |
| Seamless integration between the data recording unit, removable solid-state recording media and ground analysis software, as well as with elimination of any download time, means that the dataMARS104 solution is complete, efficient and ensures that the entire testing process is streamlined. With many successful installations worldwide, this solution is proven and reliable. | | |
Proven Field Success
Both the United States Army and Navy have decided to use the dataMARS104 as one of their standard solutions for flight-data recording and post-analysis, installing it on their flight-test aircraft. Furthermore, AMPOL's flight recorders (dataMARS104 and dataMASRS RCS) are currently being used on board a variety of aircraft worldwide, including modern carriers, fighter jets (F-16, F-15, F-4, F-5 and MIG-21) and various rotary wing platforms (AH-1W, AH-64A/D and CH47).
Features and Benefits of the dataMARS104
| | |
| --- | --- |
| | Streamlines work to save time: The dataMARS104's solid-state recording media can be removed and installed on a standard PC for immediate analysis, making post analysis efficient and easy. |
| | Real-time analysis: The dataMARS104 has the revolutionary ability to analyze data in realtime. The analyzed data, unlike the raw data recorded by conventional systems, enables decision-making during the flight. |
| | On-line data analysis on the ground: The attachment of a standard VGA monitor, mouse and keyboard makes pre-flight testing, unit integration and communication debugging simple, as the dataMARS104 unit is already configured and wired to the aircraft. |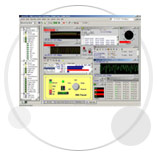 | | |
| --- | --- |
| | Integrates multiple types of communications: The dataMARS104 integrates the diverse communication data types operating aboard the aircraft, encompassing flight and mission data alike. It supports MIL-STD-1553, ARINC-429, PCM, Ethernet, video, voice, serial channels, voice, analog/discrete signals, PCM, Ethernet and many others. |
| | Adaptable and upgradeable: The dataMARS104 is constructed of modular slices that can be easily adapted to address your specific needs and changing project requirements. The dataMARS104 is generic, enabling easy upgrade and flexibility. |
| | |
| --- | --- |
| | Complete turnkey solution: The unity of the dataMARS104 recording unit and extensive dataMARS realtime and post-analysis software provide the most thorough monitoring solution available. |
| | Reliable and rugged: The dataMARS104 unit is SOF (Safety of Flight) tested, flight qualified and can withstand severe environmental conditions. Small, compact and easy to install, the unit is self-cooled and operates autonomously from a 28 VDC power source. The dataMARS104 uses solid-state recording media, with the storage capacity for hours of flight time. |